How to use Percentage Calculator?
Nowadays, online users need efficient, all-time handy, accurate, and easy to use calculator. So, they can use it anytime and anywhere. Our tool stands out to be the best in all these terms. Also, every part of the calculator has its own functionality and everything is free to use. Let's know how to use them.
We have developed 5 different sections in Percentage Calculator. Each has different mechanisms. But the usage process is similar for all. So, here we will discuss only one section. Later you can follow the same process to operate others.
Before we start, you have to arrange a few important things. Because without it you can not access the calculator.
Here are the basic things that you need to go forward.
Smart Device (It can be Mobile, Laptop, iPad, or Tablet)
Internet Connection
Web Browser (Chrome, Mozilla, Safari)
After arranging above all things, you can open the Percentage Calculator and follow the instructions below.
1. Choose Calculation Type
When you open the website, you can see many blank input boxes. So, firstly, you have to decide what type of calculation do you want to do. There are many phrases available. So, choose anyone.

2. Enter Values
Then you can enter the values or numbers inside the empty boxes.

3. Calculate and Reset
Lastly, press the "Calculate" button. As a result, you will get the conversion result below with calculation. Also, you can empty all the fields using the "Reset All" button. It will refresh the calculator.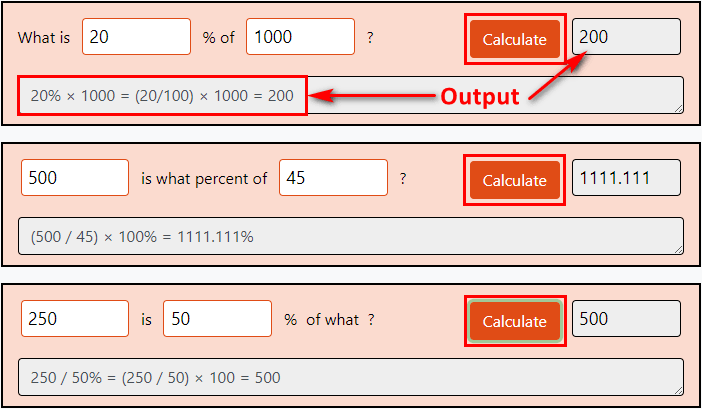 Repeat the same process for other phrases. That's it.